Uncommon and Cool Dental Gifts for Father's Day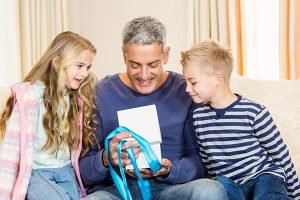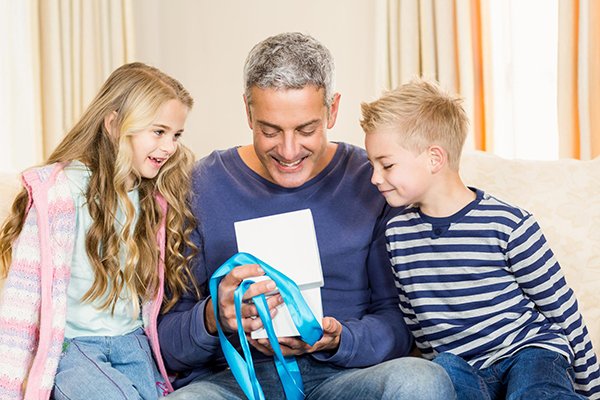 It's that time of year again – you waste time sorting through dozens of potential Father's Day gifts in search of that one gift that'll blow Dad's mind.
But most of us have a fairly predictable "Father's Day Gift" routine.
We go to the store and pick out a nice shirt, tie, or perhaps a bottle of aged whiskey, and we throw in a funny card.
This year, take a break from this cliched Father's Day gift pattern and give your dad a gift he won't expect but will definitely love – The gift of oral health. A Plus Dental has put together a list of convenient oral health gifts that you can give to your Dad!
Electric Toothbrush
Get your Dad an electric toothbrush – after all, it's the power-tool of home dental care! Electric toothbrushes:
Help prevent and reverse gingivitis for a healthier mouth.
Stimulates gums and helps remove the maximum amount of plaque with less effort.
Rechargeable, designed to give you triple-cleaning action.
They're ELECTRIC!
Works around each tooth to get to those hard-to-reach spots, making your Dad and his dentist happy.
Include overall timers and timers to ensure all parts of the mouth get proper attention
Dental Emergency Kit
Does you your dad love to travel or camp in the rough? Nothing can bring even the toughest Dad to his knees like dental problems when he is hours from a dentist. An emergency kit contains some basic first aid to help deal with most common dental emergencies until Dad can get to a dentist. You can buy an emergency kit or create your own in a waterproof container.
A kit might include:
plastic tweezers
"Save-a-Tooth" kit
cotton rolls
Orasol gel (0.75)
disposable dental mirror
disinfectant
dental floss
ibuprofen tablets
temporary fillings
dental picks
wax
sterile gauze pads
Add to this list any particular things your Dad's dental condition might require.
Snore Guard
Does your Dad snore or have trouble sleeping? Consider giving an oral appliance. Also called Jaw Advancing Device (JAD) or Mandibular Advancement Device (MAD), these sleep apnea oral appliances are custom made by dentists using a plastic-like mould to form to the specific shape of the patient's teeth and mouth.
Not only do they battle sleep apnea, but they can also stop snoring.
Athletic Dads & Grinding Dads!
Your teeth are vulnerable to damage other than cavities.  Athletics, for instance, put your Dad's teeth into situations in which they can be chipped, cracked, or even knocked out.
At A Plus Dental we create custom-made mouthguards and night splints, so your Dad's teeth are safe in play or sleep!
Mouthguards are made from an impression of your Dad's teeth, so they fit perfectly in the mouth and provide the best comfort possible.
Brighten your Dad's smile for Father's Day
Do your dad have discoloured teeth? Teeth discolouration can be caused by multiple factors, including coffee and wine drinking, tobacco use, and the natural process of age.
At A Plus Dental, we can restore the whiteness of your Dad's teeth in only one visit.
Zoom WhiteSpeed teeth whitening can be performed in as little as one hour.
Results of our Zoom WhiteSpeed treatment are immediate. In comparison, at-home tooth whitening kits may require wearing a mouth guard filled with a bleaching agent for about 45 minutes at a time over the course of up to two weeks.
Compared to other tooth whitening options, A Plus Dental Zoom WhiteSpeed treatments are a quicker and more convenient way to whiten your teeth.
Tooth Whitening at A Plus Dental
Dento-facial Aesthetics
You can give the gift of youthful appearance!
Cosmetic dentistry – involves treatments that improve the overall appearance of your teeth such as bonding, veneers, and even orthodontics.
Facial injectables – also known as muscle relaxants, facial injectables decrease the appearance of wrinkles and eliminate "gummy smile". Muscle relaxant injections are also used to reduce facial and jaw pain. Areas treated with facial injectable procedures include lines around your:
Mouth (smoker's lines)
Eyes (laughter lines or crows feet)
Forehead
Between the eyebrows (frown lines)
Bridge of the nose (bunny lines)
Across the neck
Dermal Fillers – these replace lost volume or improve certain areas in the face that may be collapsed. Dermal fillers can improve the appearance of cheeks or chin, lips, dark eyes, nasolabial folds (deep facial folds), and "marionette" lines.
Looking younger at A Plus Dental
It All Adds Up at A Plus Dental!
At A Plus Dental, our goal is to give our Campbelltown area patients, from infants to seniors, with caring, relaxing treatments in a calm and welcoming environment. When you choose A Plus Dental, you take the next step towards a beautiful, healthy smile with teeth that feel great in your mouth!!
We have over 30 years of experience combined and treat each of our patients with the utmost care and respect.
Call your Campbelltown dentist on (02) 4627 3833 or visit us at Suite 3/300 Queen Street in Campbelltown.