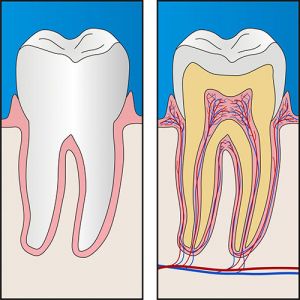 The interior of the tooth is comprised of a pulp chamber and a root canal that contains pulp tissue.
The pulp tissue can become infected for many reasons. Once this happens, it can cause an array of problems including pain and infection.
Root canal therapy is performed to save and restore the tooth to function. Sadly, many people believe that the procedure is painful and scary.
Though the term "root canal therapy" sounds scary, the procedure itself is painless and eliminates your discomforts.
Over the past 20 years, modern technology has significantly improved the root canal procedure as well as patient comfort levels.
At A Plus Dental, we are up to date on the latest technical procedures in the science of root canal therapy, so we routinely deliver safe and reliable outcomes.
Why Your Dental Pulp Becomes Infected
The pulp tissues can become infected for the following reasons:
Tooth decay has developed and penetrated to the root canal
A fractured tooth caused by injury or genetic weakness
Excessive dental work or treatment on the tooth
Failed dental crown
Other factors that allow harmful bacteria to invade the exposed pulp
Indications of Infected Pulp and the Need for Root Canal Therapy
Severe toothache when chewing or applying pressure
Highly sensitive teeth when exposed to hot or cold temperatures
Dark and discoloured teeth
Swelling and tenderness of gums near the affected tooth
Pimple on the gums
The Root Canal Procedure
Your dentist will perform a thorough examination to determine the exact cause of the problem.
To start the procedure, the area surrounding the tooth is numbed with a local anaesthetic. The crown of the tooth is opened to expose the chamber of the pulp. If there is an abscess, your dentist will first allow it to drain for a few days before performing the procedure.
Your dentist will clean out the pulp and remove the infection. The canals are also cleaned to remove any bacteria and reshape them if possible. The dentist will then seal the root canal with an inert material, such as gutta-percha, to replace the removed infected pulp and preserve the integrity of the tooth.
On your next visit, the temporary filler will be removed and the tooth will be cleaned again for the placement of permanent filling material. A dental crown is attached, especially for back teeth, to further protect the tooth.
Root Canal Therapy in Campbelltown
We want you to enjoy long-lasting and trouble-free dental solutions. If you are looking for a trusted, skilled dentist Campbelltown who can address your dental pain safely and effectively, visit A Plus Dental today.
Enjoy a healthy, pain-free smile with our root canal therapy in Campbelltown.
Root Canal Therapy in Campbelltown
Call us at (02) 4627 3833 or simply book your appointment online.
Visit us at Suite 3/300 Queen Street in Campbelltown.