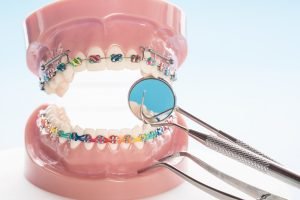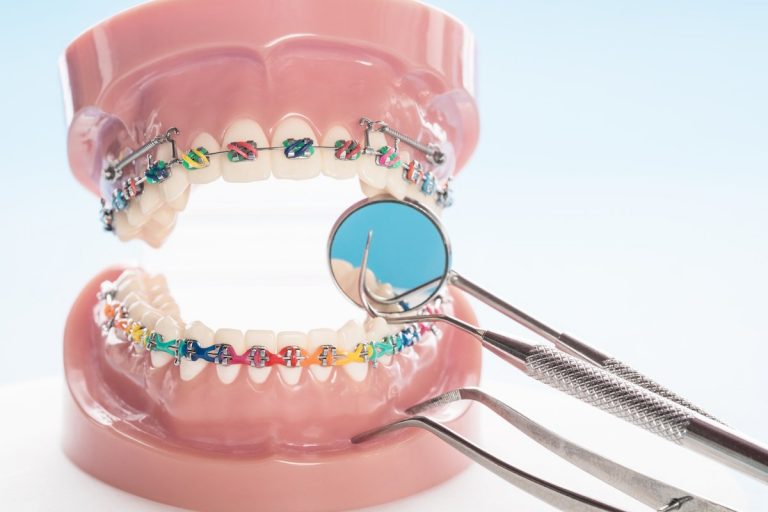 Everyone wants that perfect smile; Teeth that bite perfectly, are healthy and present a bright smile to the world.
But a very few of us are born with these perfect teeth. Most of us are born, or grow into, teeth that are far from being perfect.
This can lead to dental health problems, eating and speaking discomfort, and issues with how we look and are perceived by the world.
At A Plus Dental, we have the answer – orthodontic treatment!
Bad bite or malocclusion is the most common orthodontic issue.
This can result from accidents, congenital disabilities, disease, thumbsucking, or genetics. This and other orthodontic problems can affect anyone at any age.
What is Orthodontics?
Orthodontics is the branch of dentistry that treats patients with alignment problems of the teeth, the jaw, and facial growth.
Orthodontics also includes cosmetic dentistry, in which the treatment improves appearance.
Common Problems Treated by Orthodontics
Crooked teeth
Bruxism or teeth grinding
Crowded teeth
Crossbite
Underbite
Overbite
Speech problems
Wide spaces between teeth
Temporomandibular joint (TMJ) disorders
Benefits of Orthodontics
An improved smile comes with several remarkable benefits:
Improved Smile, Improved Self-Esteem
Your dental health has a direct effect on your overall health and comfort. How you feel about yourself also plays an important role in the quality of your life.
When you feel unattractive because of misaligned teeth or jaws that don't meet properly, you may become conscious of how you look.
You may cover your mouth when speaking or laughing; hesitate to smile, or attempt to hide your face.
Orthodontic treatment can improve your dental and overall health and change your facial appearance for the better, and it can also boost your self-esteem.
It can provide you with an opportunity to participate in improving your appearance. Patients often feel more confident even before the treatment is finished.
As you see yourself looking better, you may find yourself feeling better and enjoying a greater quality of life.
With a more attractive smile, you can face your career and your personal relationships with confidence.
It's a Great Feeling, at Any Age
Orthodontic treatments can help people, regardless of their ages. Today, more and more adults are wearing braces to correct a less than perfect smile.
Modern orthodontic advances like less visible braces, as well as affordable payment plans, have made treatment an easy option for adults.
At the same time, some young ones may greatly benefit from early detection of irregular bites and early treatment of those issues.
Orthodontics can help guide tooth growth and jaw development as a child grows and as permanent teeth come in.
Early treatment may prevent more severe problems from developing and may make treatment at a later age shorter or less complicated.
A Healthy Smile, a Healthy Outlook
Orthodontic treatment can improve one's dental health as it also improves appearance. Straight and properly aligned teeth are easier to clean and maintain.
Correcting orthodontic problems can help prevent cavities, periodontal disease, and even tooth loss.
With a healthy and beautiful smile, you feel better about yourself and your interactions with others.
Diagnosis of Teeth and Jaw Alignment Problems
Teeth and jaw alignment issues are identified using several tests, such as:
X-rays of the mouth and jaw
Impressions of the upper and lower jaws, which are used to make moulds of your teeth
Orthodontic Treatments in Campbelltown
Several orthodontic devices may be used to correct the teeth alignment or to keep them in place. These include:
Braces – small brackets are attached in front of each tooth, and a wire is tied to them. The constant gentle pressure of the wire slowly moves the teeth.
Clear aligners – also called invisible braces, clear aligners are custom-made clear pieces that are placed over the teeth and move them gradually.
You normally need to wear clear aligners for 20–22 hours a day, but you can remove to eat, drink and clean them.
Elastics – these small rubber bands are stretched between the upper and lower braces for extra force in moving the teeth.
Plate – a plastic device that is placed in the mouth and uses wires and springs to push teeth into a desirable position, or to hold them in place.
Unlike braces, a plate is removable and can be taken out of the mouth.
Orthodontics in Campbelltown
Do you have issues with the alignment of your teeth? Speak to your Campbelltown dentist at A Plus Dental today.
We offer several modern orthodontic treatments, including Invisalign, to address a wide range of bite and misalignment problems.
Whether you require a traditional brace or a clear Invisalign, we have the right solution for your smile.
Orthodontics in Campbelltown
To claim your FREE Orthodontic Consultation, call (02) 4627 3833 or simply book your appointment online.
We are located at Suite 3/300 Queen Street in Campbelltown.