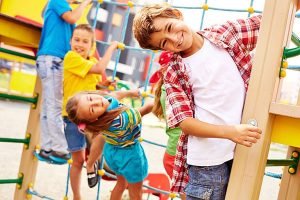 At A Plus Dental, our goal is to teach your kids how to properly care for their teeth, and create a positive, comfortable feeling about visiting the dentist. We firmly believe that good oral health is an essential component of total health and wellbeing.
Children's dentistry is a specialty focusing on the oral health care needs of babies and young people. In consideration of the special development needs of children, the dentists at A Plus Dental use unique treatment methods in order to maintain good oral health and avoid future dental complications.
Why Choose A Plus Dental for Your Child's Dental Care
Campbelltown dentists keep abreast of the latest advances in dentistry for children. Our highly trained dentist and staff are extremely adept at addressing the specialised needs of children with complex dental and health care issues.
Our child-friendly environment and easy communication style help create comfort and ease around dental visits and caring for children's teeth.
Establishing A Plus Dental as your child's "dental home" allows us to instil sound preventive dental habits that deter oral disease.
At A Plus Dental, we:
Perform all aspects of children's dentistry
Have a strong emphasis on preventative dentistry
Believe in minimal intervention
Involve both child and care giver in the treatment process
Offer a dedicated Kid's room with toys to play with while waiting
Offer Happy gas and sedation available
Dental Care For Your Child
Children's dentistry aims to help your child develop good dental care habits while they are young. Through this, they can prevent the onset of dental problems in the future, as well as become comfortable with their dentist and hygienist during appointments.
Children dental services include:
Dental check-up
Treatment of existing dental problems
Tooth filling
Fluoride treatment (if necessary)
Recommendations for healthy diet
Children's Dentistry in Campbelltown
At A Plus Dental, we are comprised of gentle and friendly dental professionals who are dedicated to providing a pleasant experience for your child every time they visit us.
Our dental clinic is designed with comfort in mind to offer a child-friendly environment every kid will love. We handle your child's oral health and anxieties with utmost care to make their visit as pleasant as possible.
Experience first-rate dental care for your and your children at A Plus Dental.
Child Dental Benefits Schedule
Bulk Bill for children who are eligible for MEDICARE CHILD DENTAL BENEFITS SCHEDULE
Up to $1,052 worth of dental treatments over two years
Children's Dentistry in Campbelltown
Call us at (02) 4627 3833 or simply book your appointment online today.
Visit us at Suite 3/300 Queen Street in Campbelltown.