Orthodontics & Your Smile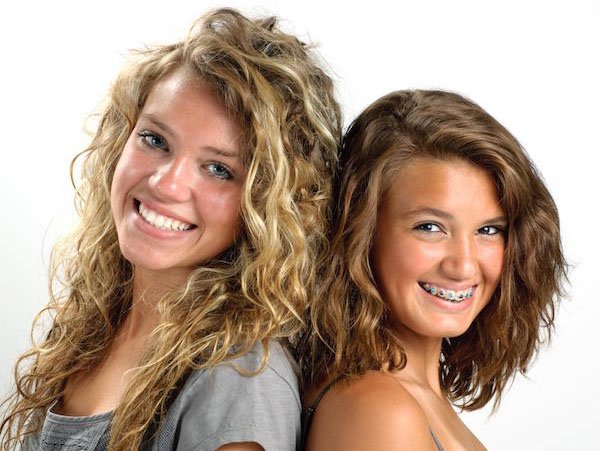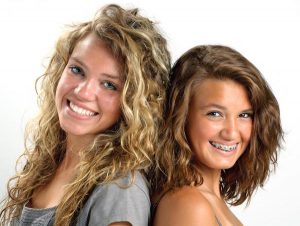 You want people to like your smile, maybe even be amazed by it, and you know that a great smile can open the door to opportunities in social life, work, and even romance.
And your teeth may be healthy as you take care of them at home and visit your Campbelltown dentist regularly. But what if your teeth aren't straight? No amount of brushing and flossing, or dental checkups can change that.
The only thing that can treat crooked teeth is orthodontic treatment to straighten them.
At A Plus Dental, our options include traditional braces, clear ceramic braces, Invisalign invisible braces, and veneers. Let's take a look at the options!
Traditional Braces
Traditional orthodontic treatment uses small ceramic or metal brackets attached to the teeth. The brackets are attached to arch wires that help move the teeth. In some cases rubber bands and springs are also used to help reposition your teeth.
Treatment usually takes from one to three years. The amount of time depends on the patient and the individual case. Once treatment has concluded, using a retainer may be necessary for several years.
Conventional Metal Braces
Metal braces (stainless steel) are historically the most popular type of braces. Treatment usually takes from one to three years to complete. Metal braces are the least expensive option and they do not break easily. They are also well-suited for patients of all ages and almost all conditions. Finally, because they are permanently attached to the teeth for the treatment process, patient compliance is built in.
Many patients choose not to get metal braces simply because they consider the look unattractive. People who play contact sports regularly and musicians who play wind instruments often avoid metal braces because they can stop or limit them from their hobbies (or jobs). Metal braces also come with food restrictions including the need to avoid hard and chewy foods as they foods can damage or break the wires and brackets comprising metal braces. And this leads to the last point, metal braces can be uncomfortable when broken or abrasive, and they can hurt after adjustment.
Clear Ceramic Braces
Clear ceramic braces are an aesthetically pleasing alternative for patients who don't want their braces to be so obvious. Clear braces move your teeth the same way metal braces do. They are extremely comfortable to wear and very efficient at moving teeth.
Lingual Braces
Lingual braces are the state-of-the-art design that offers an amazing technological advancement in orthodontic treatment. Orthodontic treatment consists of the application of stainless-steel brackets. Initial discomfort is similar to that of traditional braces.
Treatment usually takes from one to three years to complete. The amount of time depends on the cooperation of the patient and the difficulty of the case. Once treatment is over, it may be necessary to use a retainer for several years.
Invisalign Invisible Braces
Invisalign braces are a good choice for patients who do not have severe orthodontic issues. The "braces" are strong plastic trays that are fabricated especially for you. Invisalign is practically invisible, so you can achieve proper teeth alignment without anyone seeing that you are wearing "braces"!
Invisalign aligners are made of clear and tough medical-grade plastic. They are worn for up to 22 hours a day, but can be taken in and out of your mouth during meals, sports, while playing instruments, or to brush or floss your teeth. The Invisalign treatment takes between 6 and 18 months, depending on the severity of the bite and misalignment issues with your teeth.
Veneers
Porcelain veneers are a versatile cosmetic solution. The thin porcelain shells, which only measure about half a millimetre, can transform your smile in just a couple visits. If you want to fix the imperfections in your teeth with veneers, A Plus Dental is here to help.
Porcelain veneers can correct a wide array of dental flaws such as:
Rotated or crooked teeth (orthodontic)
Gaps between teeth (orthodontic)
Misaligned teeth (orthodontic)
Discoloured teeth
Worn teeth
Peg shaped lateral incisors
Getting dental veneers usually requires only two appointments and veneers are among the most economically attractive treatments available.
Veneers are a great option for your smile. The results are astonishing and quick, and the transformation of your smile will surely boost your self-esteem.
Free Orthodontic Consultation at A Plus Dental!
At A Plus Dental our goal is to give our Campbelltown area patients, from infants to seniors, with caring, relaxed treatments in a calm and welcoming environment. When you choose A Plus Dental, you take the next step towards a beautiful, healthy smile with teeth that feel great in your mouth!!
Grab your FREE orthodontic consultation today!
Call (02) 4627 3833 or visit us at Suite 3/300 Queen Street in Campbelltown.