Home Technology For Your Teeth!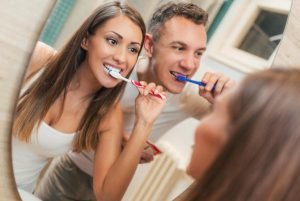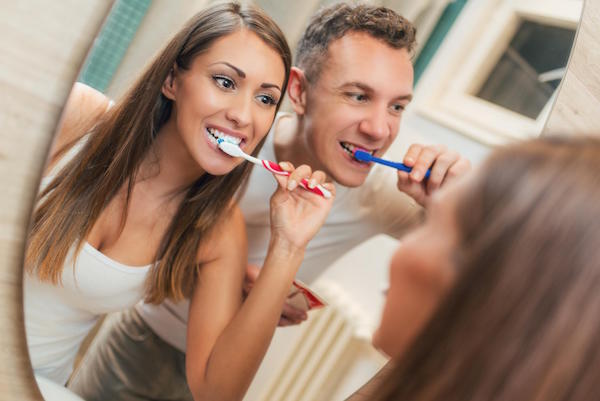 If you've ever walked down the oral hygiene aisle at your local pharmacy, you may have been amazed by how many different kinds of toothpaste there are.
There is toothpaste for children, dentures, to fight tartar buildup, for sensitive teeth, to whiten teeth, with or without fluoride, and in every conceivable flavour.
But did you know there is also a wide range of tools you can use at home that can help you maintain tip-top oral and overall health?
At A Plus Dental, we'd like to introduce you to some of our favourite home-technology tools – some extremely useful, and some just a slight bit odd.
Electric Toothbrushes
This may be the dental tool that provides most "bang" for your dollar. So, what benefits do electric toothbrushes offer?
Electric toothbrushes give you advanced superior plaque removal when compared to manual toothbrushes. Electric toothbrushes do the actual brushing for you. This means you only need to guide the toothbrush along the tooth surfaces.
This makes them easier to use and a particularly good choice for people with coordination, mobility, or flexibility issues. Electric toothbrushes can also help kids brush more effectively, but be certain to take a look at any age recommendations for an electric toothbrush before letting a child use it.
According to an independent study 2005, "Brushes that worked with a rotation oscillation action removed more plaque and reduced gingivitis more effectively than manual brushes in the short and long term."
Electric toothbrushes can also help you improve your brushing habits with their hi-tech features, including:
Multiple brushing modes for sensitive teeth, whitening benefits, or gum-massaging
Sensors that signal if you're brushing too hard
Timers that help track how long you've brushed each quadrant of your mouth – this can be very effective in helping children to brush for a complete two minutes.
Built-in reminders to replace your brush head
Oscillating/pulsating and cupping, oscillating/rotating or sonic technology
Multiple brush head options so you can choose which kind of bristle design you prefer
Toothbrush Timer App
If you don't use an electric toothbrush, you might consider a toothbrush timer app to make sure you give your teeth the full 2-minute brushing that A Plus Dental recommends. Apps for iPhones and Android take users through the phases of tooth brushing, provide recommendations on how to brush, and make sure that you spend 30 seconds on each quarter of your mouth. Many apps also come with a tracker that alerts you when it's time to buy a new toothbrush.
Tongue Scrapers
Many people brush their teeth quite effectively, but neglect other areas in the mouth that can harbour bacteria, particularly the tongue. In this case, a tongue-scraper may be just the thing! A tongue scraper is a dental implement that is designed specifically to clean the tongue. Using a tongue scraper is easy. Position the tongue scraper on the back of the tongue and pull it forward along the tongue's surface to the tip. Repeat until the entire tongue has been scraped clean.
Oral Irrigators
This appliance shoots a stream of water in your mouth to clean difficult-to-reach places between and around your teeth. This can be particularly useful for people with braces or fixed partial dentures. Be sure to choose an irrigator that you can regulate so that water pressure isn't too high.
Dental Plaque Staining
Dental plaque staining is a great way to identify spots you miss during your daily brushing and flossing. At-home staining kits usually contain colourful, chewable tablets that can be spread around the surfaces of the teeth and then rinsed off. After chewing and spreading the tablets over the surfaces of your teeth and rinsing, you simply look for remaining instances of colour on your teeth, as the dye clings to areas of your teeth that have excess plaque.
Dental Mirror
A great tool to use with dental plaque staining, dental mirrors are similar to what your dentist uses. They can be very useful in revealing areas you may be missing with normal brushing and flossing. Mirrors can also show discolouration or the presence of cavities and make it easier to keep an eye on fillings or dental work.
Zip Rings
Zip Rings help you comfortably control floss using no more than one finger! They also substantially decrease floss waste and make it easy to floss difficult-to-reach locations. One ring holds a two-week supply of your dental floss while the other collects used floss
It All Adds Up at A Plus Dental!
At A Plus Dental our goal is to give our Campbelltown area patients, from infants to seniors, with caring, relaxed treatments in a calm and welcoming environment. When you choose A Plus Dental, you take the next step towards a beautiful, healthy smile with teeth that feel great in your mouth!!
With have over 30 years of experience combined and treat each of our patients with the utmost care and respect.
Call your Campbelltown dentist on (02) 4627 3833 or visit us at Suite 3/300 Queen Street in Campbelltown.