Dental Implants and Missing Teeth: How A Plus Dental Can Help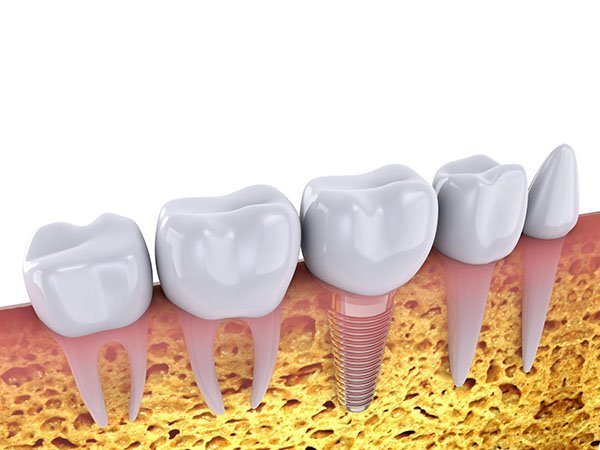 Dental implants are an attractive solution for many people dealing with the discomfort and inconvenience of dentures, bridges, and missing or deteriorating teeth.
Implant-supported replacement teeth look better, function better, and give patients more dental confidence, than any other tooth replacements.
But implants also cost more than other treatments, and so prospective patients sometimes have questions.
At A Plus Dental, the first question we usually hear about dental implants is how long will they last? And we are happy to respond that dental implants, properly implanted and cared for, can last for a lifetime.
What Is A Dental Implant?
Dental implants in their modern form were invented a little more than 50 years ago. In 1965, a Swedish scientist named Per-Ingvar Brånemark placed the first dental implant in the mouth of a man named Gösta Larsson. When Larsson died in 2006 at the age of 75, his original implants were still in place. The first modern dental implant lasted over 40 years!
A dental implant is two things, actually. To a dentist, it is one part of a permanent replacement tooth or crown. But when we commonly talk about implants, we are talking about full replacements for a tooth or teeth.
A dentist might say that a dental implant is a cylindrical and/or tapered post, usually made of titanium that serves as a substitute for the tooth root. But when we talk generally about implants we mean:
Dental Implant – A cylindrical and/or tapered post, usually made of titanium, that serves as a substitute for the tooth root
Abutment – A connector, placed on, or built into, the top of the dental implant, to connect the implant to the replacement tooth or teeth
Crown – A replacement tooth, custom made to match your natural teeth
Because these three elements of a dental implant are so strong and durable, the expectation for dental implant lifespan is between 25 years and a lifetime!
Dental Implants Also Help Your Bone And Appearance Last!
Dental implants don't just last a very long time, they help other parts of your smile last a long time as well. Dental implants reduce the load on the remaining oral structures/teeth by offering support and retention to crowns, bridgework and overdentures. This helps those dental restorations last!
Dental implants preserve natural tooth tissue by avoiding the need to cut down adjacent teeth for conventional bridgework.
Dental implants preserve bone and significantly reduce bone resorption and deterioration that results in loss of jawbone height. This means that your face remains supported by the jawbone and implants, which means a younger and healthier appearance.
Dental implants have been shown to reduce the need for subsequent restorative intervention of adjacent teeth.
Taking Care Of Your Dental Implants, To Assure Long Lifespan
Taking good daily care of dental implants is very close to taking care of natural teeth. Dental implants should be kept clean and plaque free twice a day using a brush and floss, following the normal recommendations for duration, tools, and techniques. Cleaning is especially important after meals. This is accomplished by gently brushing, giving special attention to all sides of the implant.
Oral hygiene aids may include:
Small, soft, manual toothbrush or an electric brush
Low-abrasive, tartar-control toothpaste
Dental floss for cleaning around the abutments
A water-irrigation system for gum health
Other supplies that may be recommended by the doctor may include:
Antimicrobial mouth rinses
Inter-dental brushes or other aids for removing plaque between the teeth on either side of the implant(s)
Disclosing tablets to stain the locations of plaque accumulation
You must be committed to daily performance of dental hygiene at home, and also to regular visits to your Campbelltown dentist. We recommend that you see us every 3 to 6 months for a professional exam and cleaning. The dental implants should be examined with an X-ray annually to assure that all is well.
What Happens If Dental Implants Are Not Properly Cared For?
Without consistent daily care, implants can develop problems. As in many other instances of insufficient oral hygiene, the earliest sign of a problem begins with bleeding. This may be successfully treated and is reversible if caught early. Unfortunately if it progresses to bone loss, the bone loss is not reversible. In some cases this can lead to advanced bone loss and the removal of the implant.
However, the take-home message on dental implants is a very optimistic one. Implanted by skilled dentists, and cared for properly at home and in the dental office, dental implants can be expected to last between 25 years and a lifetime!
A Plus Dental Is Your Dental Partner In Campbelltown
At A Plus Dental our commitment is to dental care at a price you can afford. Visit our convenient offices and achieve maximum oral health from simple checkups to dental implants and more!
Grab your FREE Dental implants consultation today!
Call us on (02) 4627 3833 or request your appointment online today!