Dental Care at A Plus Dental – What Can You Expect?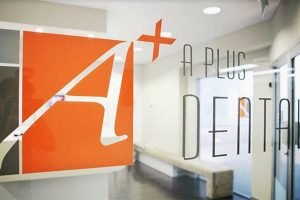 For many of us, visiting the dentist is little more than a chore.
We have to take time out of our busy schedule, get over to the dentist's office, then sit in a dental chair while strange tools are put into your mouth.
For some people, the inconvenience can shift from slightly annoying to an actual phobia.
At A Plus Dental, our mission is to make every patient's oral health as perfect as it can be.
Consequently, we have invested a great deal of effort into making a visit to our office go from being an inconvenience to being something you might even look forward to.
We try to make our treatments as quick, comfortable, convenient, and economical as possible.
Before the dental chair
A Plus Dental has a thorough website that can help you get a sense of what the experience in our office and surgery will be.
In fact, we even have a photo gallery so you can take a virtual tour of our facilities before coming in! You can also take a close look at our treatments (listed below) and learn what they entail.
You can also check out our promotions. Currently, we are offering a new patient deal, with new patients paying only $99 only for a check-up, cleaning, fluoride treatment and 2 X-rays.
We also offer a no-obligation dental consultation on Dental implants and Orthodontics to help you decide if either of these treatments are right for you.
Our location is convenient, just off Oxley St and near Campbelltown Station, and we offer Saturday hours so that are working patients can get the treatment they need.
Our Team
Our team is a collection of highly skilled, friendly, and compassionate members. Here are some of them.
Dr Kong is the principal dentist Campbelltown at A Plus Dental. A graduate of the University of Sydney, School of Dentistry in 1997, he has a particular interest in cosmetic dentistry with extensive experience in complex prosthetic treatment.
Dr Alex Kim is a graduate of Melbourne University (2005) with Bachelor of Dentistry. Dr Kim has an interest in oral surgery and extensive experience in wisdom tooth extractions.
Dr E. Chris Ha is committed to providing ethical, high-quality, and comfortable oral healthcare.
Our staff is equally talented. Renee has worked with us for nearly a decade, gaining the friendship and trust of our long-term patients.
Diana joined the team in 2005 and is known for her smile and sense of humour.
Sue has been on staff for 16 years and helps with our busy Saturday schedules. Rhiannon began as a patient in 2004, then moved on to our staff!
Our Services
A Plus Dental offers all the dental treatments that you and your family will normally need.
We also offer emergency dental treatments, something most people don't think about, but that is very important if it is needed.
Patients who require emergency care are treated during business hours of the same day their emergency occurs. We work hard to end any pain you feel and to address any dental issues that your emergency might have caused.
Post-care Concerns
Our care does not end when your treatment does. As you leave, we'll give you any advice, material, or demonstration you need to keep up your aftercare.
We'll also take this opportunity to schedule your next appointment, whether it be follow-up for a treatment, or just your routine check-up and clean.
Billing also occurs at this time, and we can help you figure out your payment options.
We partner with:
nib First Choice
HICAPS
Zip Money
Zip Money lets you get treatment today and pay later. There's no deposit, and every purchase is interest-free (Zip Pay) or comes with its own interest-free period (Zip Money).
You can get further details on this from our helpful front-desk staff.
Zip Money
For amounts over $1,000
Nothing to pay at the time of treatment
Up to 12 months interest-free
Flexible repayments
We can also help you with support plans such as the Child Dental Benefits Schedule, which can provide $1,000 over a two-year period for children who meet eligibility requirements
By the time you leave our office, you should have a brighter smile, a happier outlook, and another appointment already scheduled!
It All Adds Up at A Plus Dental!
A Plus Dental believes in honesty, trust, individuality, compassion and comfort. Our goal is to give our Campbelltown area patients, from infants to seniors, caring, relaxing treatments in a comfortable environment.
When you come to A Plus Dental, you take your next step towards a beautiful, healthy smile with teeth that feel great in your mouth!!
We have over 30 years of combined experience and treat each of our patients with the utmost care and respect.
Our Promotions for New Patients
$99 for Check-up, Cleaning, Fluoride treatment and 2x X-rays
Call us at (02) 4627 3833 or request your appointment online today.
We are located at Suite 3/300 Queen Street in Campbelltown.