Dental Tips: The Top 5 Benefits of Invisalign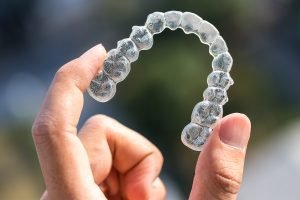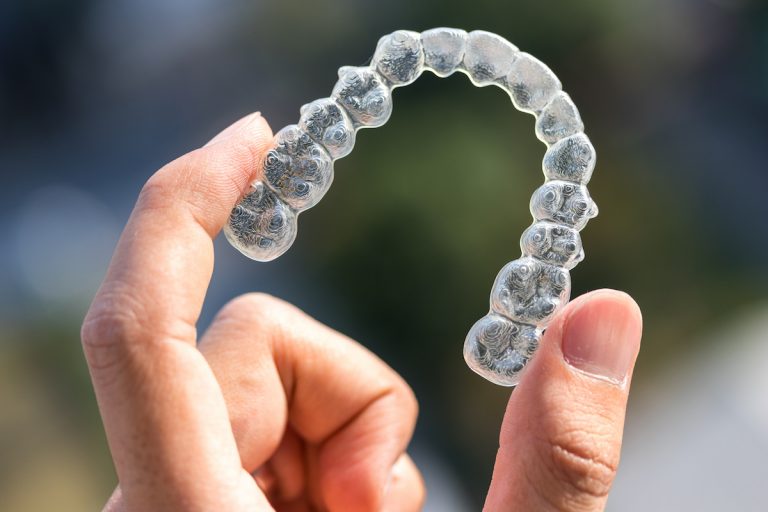 We can all agree, and science has proven, that a perfectly aligned smile is aesthetically advantageous.
In Campbelltown, many of our patients visit our office with questions about how to improve their smile.
Sometimes it's as simple as whitening treatments or better dental habits, but there are also orthodontic treatments that can result in remarkable upgrades to your smile and your dental health.
And when it comes to choosing a tooth-straightening procedure, one of the most popular treatments in Campbelltown is Invisalign, and A Plus Dental is proud to offer it!
Let's take a look at what Invisalign is, and five advantages it gives you that make it an excellent treatment for some misaligned teeth.
What is Invisalign
Invisalign is an orthodontic treatment that straightens teeth using a series of clear, practically-invisible, polyurethane aligners that are custom-manufactured for your teeth and your mouth.
How does Invisalign work?
Individual Invisalign trays are worn for two weeks each and then replaced by another set. Each set moves your teeth closer to alignment. The aligners remain in your mouth for 20-22 hours a day and are removed to brush, eat, or during some activities.
Let's look at five of the most significant advantages of Invisalign in terms of comparison to other treatments, health, and convenience.
Five top benefits of Invisalign
Your teeth and mouth will be easier to clean and brush. If your teeth are too crowded or snaggled, you might struggle to brush them effectively. It may also be a chore to floss properly. With Invisalign, your teeth are more evenly spaced, and easier to clean. Misaligned teeth can also create spaces in which bacteria can hide, leading to plaque, tartar, cavities, gum disease and other dental maladies.Invisalign is much easier to clean and brush than conventional braces. The wires, brackets, rubber bands, etc. of traditional braces cover teeth, give floss excellent places to snag, create hiding places for bacteria, and in general make oral hygiene much more difficult. Aligners can be taken out for oral hygiene, making access to teeth easier, flossing and brushing more thorough, and making the entire oral hygiene experience more convenient and pleasant.
Invisalign aligners are comfortable. Because of the soft material with no cutting edges that aligners are made from, you have no uncomfortable brackets or metal wires to deal with. This means that, unlike the case for those with traditional braces, you will never feel the poking, cutting, or scraping that comes along with traditional metal braces. You also won't experience the deep, dull pain that sometimes occurs after brace-wires are tightened. Because you change aligners every two weeks, you only feel a very tolerable pressure when sets are changed.
Invisalign aligners are practically undetectable! For our patients at A Plus Dental, this is one of the most significant advantages of Invisalign. While braces are visible and unsightly, and crooked teeth are the same, Invisalign aligners are constructed from a transparent plastic material that is practically invisible to the eye when it is in place. This allows you to live a normal life without having to worry about "train tracks" or of ugly "metal mouth." We understand how important your appearance is — After all, that's why you're considering Invisalign in the first place. Invisalign helps you keep appearances up while you are undergoing treatment.
Invisalign is fast! In many cases, Invisalign works about twice as fast as traditional metal braces which can take up to 2 years to achieve the desired results. Invisalign, on the other hand, can help you get the straight smile you want in just about one year! Of course, Invisalign cannot be used in all cases, but when it can be used, it can dramatically speed treatment. If you want to know if Invisalign might work for you, contact us at A Plus Dental!
Invisalign is convenient. Because Invisalign aligners can be removed, you can take them out for eating, cleaning, and for special occasions. Imagine trying to play the trumpet or another wind instrument with braces in your mouth! But Invisalign aligners will never be in your way. Additionally, Invisalign requires far less time at the dental office, sitting in that chair – emergency visits are a thing of the past! Finally, though there are many more advantages, with Invisalign no food is "off limits", as you can take your aligners out to eat hard or chewy foods.
More about Invisalign at A Plus Dental
It Adds Up with A Plus Dental!
A Plus Dental believes in trust, honesty, compassion, individuality and comfort.
We give Campbelltown area patients, from infants to seniors, caring, relaxing treatment in a soothing environment. When you choose A Plus Dental, you take the first step towards a beautiful, healthy smile with teeth that feel great and work well!!
We have 30+ years of total experience and treat each of our patients with the utmost care and respect.
Free Orthodontic Consultation in Campbelltown at A Plus Dental
Call your Campbelltown dentist on (02) 4627 3833 or visit us at Suite 3/300 Queen Street in Campbelltown.