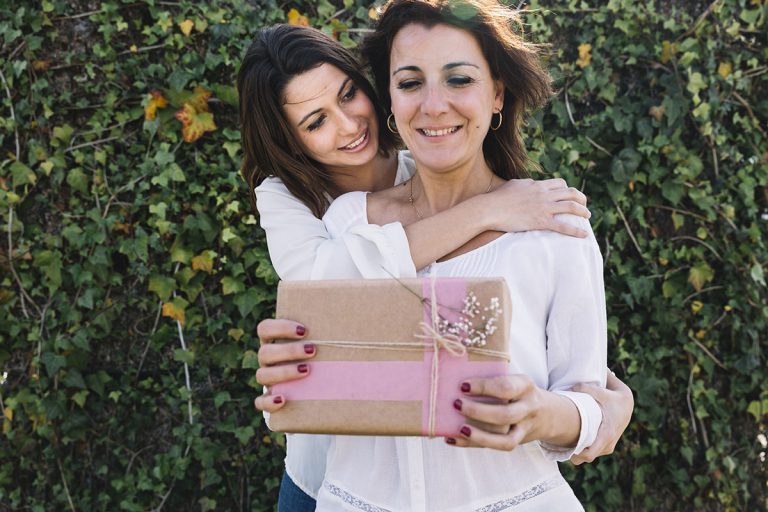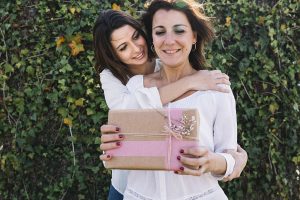 When you were young, Mother's Day seemed was a much simpler affair, partly because your Mom knew you really couldn't give her much of a gift.
Collect a couple of pieces of cardboard, slap on some crayon, maybe some painted macaroni, and presto, you had a gift!
Your Mom may well have loved that macaroni card or clay ashtray, but now you're grown up, and you can't get away with a quickly scrawled, 'One Free Hug' coupon.
This is why your partners at A Plus Dental have compiled a list of extremely, useful, and healthy dental gifts that you can give to your Mom this Mother's Day!
Let's take a look at our suggestions!
#1 Water Flosser
Water flossers are an excellent way to make flossing more enjoyable and convenient. They are thin, wand-like tools that spray water between teeth and onto the gums.
All your Mom needs to do is guide the flosser around her smile so it can spray between her teeth.
If your Mom isn't keen on flossing, this is a 'must-get' Mother's Day gift! It is also great for Mom's who may have trouble, due to arthritis or other issues, properly handling dental floss.
#2 Electric Toothbrush
Why not give your Mom an electronic toothbrush to keep her smile healthy and bright?
Not only can an electric toothbrush keep your Mom's teeth extra clean with little work, but they bring your Mom extra benefits as well:
It keeps her heart and mind healthy. Plaque can cause gum disease and inflammation that can damage the blood vessels in the heart and brain.
It's excellent if Mom has arthritis. Using a manual toothbrush can be difficult and even painful if your Mom suffers from arthritis or mobility problems in the wrists, hands, or arms.
It enables Mom to brush longer. Dentists recommend brushing for two minutes every time. Electric toothbrushes eliminate guesswork, thanks to built-in timers.
It stops one-sided brushing. Electric toothbrushes apply equal pressure to all parts of your mouth.
#3 Protecting the sporty or grinding Mothers
If your Mom engages in a sporting activity or suffers from night grinding, she should protect her teeth from trauma by using a mouthguard.
A rubber-like mouthguard is custom-designed to cushion jaws, teeth, tongue, and cheeks from blows to the face, protecting and minimising the risk of emergencies.
A mouthguard or splint has similar advantages for Mom's who grind their teeth, a condition called bruxism. Bruxism can grind enamel off, lead to muscle pain, and even cause TMJ issues.
In two short appointments, Campbelltown dentists can fit a comfortable, custom-fitted mouthguard.
More about mouthguards and splints at A Plus Dental
#4 Dento-facial Aesthetics
This is the gift of youthful appearance!
Zoom! Whitening – The NEW Philips Zoom! WhiteSpeed is the most advanced teeth whitening procedure available at your dentist's office.
It is quick, easy, and super-effective, whitening your Mom's teeth up to 8 shades in only one visit!
Zoom Whitening at A Plus Dental
Facial injectables – also known as muscle relaxants, facial injectables diminish noticeable wrinkles and treat "gummy smile".
Areas treated with facial injection procedures include lines around your:
Mouth
Eyes
Between the eyebrows
Forehead
Bridge of the nose
Across the neck
Dermal Fillers – these fill in lost volume or support areas in the face that may appear sunken.
Dermal fillers can improve the look of cheeks, chin, lips, dark eyes, "marionette" lines, and deep facial folds.
Looking younger at A Plus Dental
#5 Personalised Toothbrush & Holder
Personalised toothbrushes are both practical and personal. First, they eliminate confusion over whose brush belongs to whom. Second, they show thought and creativity.
To really up the ante consider giving a personalised toothbrush along with a personalised toothbrush holder.
They can be ordered online, but if you're artsy or want to put a personal touch on your gift, the Internet has endless designs for "do-it-yourself" toothbrushes and holders.
#6 Noise-Canceling Headphones
What do cool new headphones that allow your Mom to listen to music while cancelling outside noise have to do with oral health?
Well, noise-cancelling headphones are a great accessory to bring to dental appointments, particularly for some Moms who suffer from dental anxiety or phobia.
No one wants to hear the sound of the drill, and these headphones can cancel it out!
Your Mom can relax while listening to their favourite music and relaxing in the comfortable dental chairs at A Plus Dental!
It All Adds Up at A Plus Dental!
A Plus Dental provides honesty, trust, individuality, comfort and compassion.
We give Campbelltown area patients, from infants to seniors, caring, relaxing treatments in a soothing environment.
When you choose A Plus Dental, you take a step towards a beautiful, healthy smile with teeth that work well and feel great!!
We have more than 30 years of combined experience and treat each of our patients with the utmost respect and care.
Our Teeth Whitening Promotion
Zoom Whitening for only $595
Call (02) 4627 3833 or visit us at Suite 3/300 Queen Street in Campbelltown.
Tags: mother's day gift